Ironus Butticus
Site Supporter
What else is there to see and do on 299, is there an entrance and exit you would suggest?

Anymore pic of the trip
If you look on Google Maps there's only one way onto 299, and one way off. It runs north south.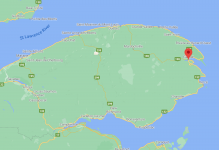 Along the road there was a handful of houses here and there, one campground (I think it was) that was closed when we were out there, In the thick of the road there's not much honestly except logging roads shooting off here and there. The photo above was a pull off just before one of them but it was dead quiet. The road runs parallel the river most of the length of the highway and it was one picture postcard moment after another - reminded of of driving through the mountains out west honestly.
You have to be creative where you stop as there really isn't much so far as organized pull offs and such, just spots here and there where you can easily stop and boondock at will. There's also countless numbered spots along the highway which we couldn't figure out to begin with but turned out to be reserved fishing spots - it ensures people are spread out and nobody gets to monopolize a spot they like, or one spot ends up with 50 people all jammed in there. Well thought out system. At each one there was limited parking on the shoulder. But if you keep your eyes open there was spots like the one we found above to stop and camp at.
I have a bunch more photos of the area but we're in all of them and I'm not interested in sharing, sorry. We only had one night on that stretch as not knowing how nice it was (and being a last second call versus taking 132 instead) we didn't know we were driving into a little slice of heaven. We won't make that mistake again when we go back out in May this year - I'm planning on spending at least 2 nights in that area so there's lots of time to just sit and enjoy nature.