Ironus Butticus
Site Supporter
At 2500 rpm and 100% VE the engine would draw in 150,000 litres of air per hour = 180 kg of air per hour at STP. Divide by air-fuel ratio 14.7 gives 12.2 kg of fuel per hour which is about 16.3 litres. If you are doing 100 km/h (your speedo is probably a little high - they all are) that's 16.3 litres per 100 km. Your instantaneous fuel consumption of 11.8 is 72% of that ... which correlates very well with the "load" in your instrument display. ("Load" is what the fuel injection system is using to calculate how much fuel to squirt in. It's a bigger number than "requested torque" because "load" includes internal friction, pumping losses which are greater at part load, etc.) It's not at all surprising that requested torque would be 55-ish percent when "load" is 74%.

I think 30 kW is a fair estimate of how much power it's actually taking to roll down the road under those conditions.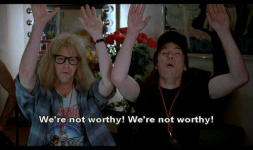 FWIW....
I see ~20kw fairly consistently on the kw guage at 100kph cruise on the highway. With just the car.
Is it going to pull all that additional weight and aero load for only an extra ~10kw more?