Curry - so nice it burns you twice
Site Supporter
Day 22 & 23
Gene and Neda's place is great and they were very gracious hosts with a very clean, cozy and comfortable home. It's always nice to meet some fine folks off this forum and as we talked, it came out that I had taught at RTI starting the year they began their big trip. They taught at RTI until they
quit their jobs, sold their homes and went riding
, so we know a lot of the same people. Neda used to also work in a similar environment as I currently do so that was interesting. And we all love to travel and have been to different places so that's always refreshing to hear about others experiences. It's also nice to meet folks that ride, and be able to have great conversations about other meaningful things like family and happiness - other than bikes or GTAM!
We have a nice dinner of Indian food take-out and Gene and I plan to ride some nice roads the next day. I have a rear tire waiting for me to be swapped in the afternoon, so we can go riding in the morning and then maybe have some lunch and take care of the tire swap.
The Saturday route we are going to do will include a few of the best roads in the area, which is also helpful because I was going to ride these exact roads the next day anyways and this will reduce the length of that route. Here's our plan for Saturday:
Kelowna to West Kelowna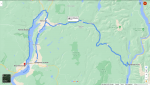 We wake up and get rolling at 8am. Gene is on Neda's BMW and I'm riding ol faithful.
The ride up the 97 takes me by surprise. I was totally expecting a drab slab experience, but the views of the water and hills to my right were really beautiful in the morning. Gene is leading which is refreshing for me. It's the first chance I've had to ride without thinking about anything and just blindly following someone else. As we make our way onto the Hwy 6 towards the Needles Ferry, Gene motions me to go up front and off we go. The 6 is a really nice ride with a good balance of excellent pavement, fast sweepers, tight corners when going up or down the mountains and some really nice scenery throughout. Since it's a Saturday morning, there isn't much traffic and we can move at a fun pace. When we get to the ferry we take a break and there is a noticeable amount of smoke that is sitting along the mountain ridges. It was not like that at all yesterday. I wasn't sure if this is normal at this time of year from the local fires or if it's from the big fires in Washington/Oregon, but it was certainly there. It actually reminded me of the Blue Ridge and the Smoky Mountains:
I want to grab a picture of Gene and there he is, embracing the elegant mediocrity of a VStrom:
By now the amount of vehicles coming to and from the ferry are starting to increase, so we decide to make our way back to Vernon. On the west side of Vernon is a road called... Westside Road. It's really nice and hugs the shoreline of Okanagan Lake. The elevation goes up and down and the corners are pretty tight in some spots. It's a must ride if you are in the area:
Gene is a great rider and it was a pleasure to ride with him. Very smooth and very safe. After this we head over to the shop and it's pointed out to me by the staff that I booked the tire swap at their other location which is just a few minutes from Gene's house. This one is at least 30 minutes away. So we hop on the bikes and head over to the other shop and they take my bike in right away. While they are putting the tire on, the Indian restaurant we had dinner from yesterday is very closeby, so we have that again for lunch. I could eat Indian every day!
Later that evening Gene attempts to educate me a little on MotoGP and it's very interesting. We also watched this really cool doc called Religion of Sports which had a focus on the Isle of Man TT and it's actually produced by Tom Brady, Michael Strahan and Deepak Chopra's son or cousin or something. It's really good!
It's time to hit the sack and I pummel off a few more days of this ride report and pass out. The next morning I wake up and look out the window. I could have sworn there's more houses and some hills in this view, but it's all smoked out:
It's amazing how much the sky has changed in 12 hours. Gene shows me a picture of what the fires are looking like in the US and it's really heartbreaking. Just total devastation down there. I pull out my phone and start reading more about it and it seems like this is going to get pretty bad in southern BC before it gets better. This is one of those moments where I start thinking about just how bad my day is going to get. I'm also thinking about whether I should just get out of BC, or head north and get up and out via Jasper or try my luck and head south towards Creston like I had originally planned. Because I'm an idiot, I choose to do my Creston route. I quickly pack up, skip breakfast and say my goodbye's. Thank you very much Gene and Neda for all you have shared with me - very much appreciated and it would be an honour to host you both if/when you make it out my way.
My planned route for the day to get me to Creston:
Hwy 97 N to Creston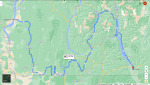 As I make my way down the 33 towards Rock Creek I'm starting to have second thoughts. The air is so thick that it's actually hard to breathe. The further south I get, the thicker the smoke becomes. It's kind of like riding in a dense fog, but it's smoke and it's scratching up your lungs. As I make my way down the 33, I see another rider who has just stopped - maybe about 50 km south of Kelowna. I also stop and we talk for a bit - taking pictures of the sun against the backdrop of smoke!
He asks me where I'm headed, so I pull out my large map and he looks over my planned route. He tells me it's an awesome route and I should do it. He just came from that way, so it seems like heading to Creston was the right choice!
"Hi, I'd like to report a wildfire"
I get on the 3 (Crowsnest Highway) and start heading east. By the time I'm at Grand Forks I have to stop because the air is so thick. I can't really breathe and also can't stop thinking about what this is doing to my lungs. The smoke is similar to fog, in that one area is really smoky and then a few km up the road or around a few corners it's a little better. It's all still crap, but some spots seem to be much worse. Today is actually supposed to be a sunny day with no clouds!
I stop inside Subway and plan out what to do. I could continue my ride. I could stop here and wait this Apocalypse out. I could skip the upper portions of my route and just go straight to Creston. I decide to go direct to Creston and then reassess the situation. Maybe I can wait it out for a day and ride those upper roads tomorrow or day after. No matter what, I need to wear a mask right now, so I take one of the awesome facemasks my beautiful wife got for me before I left and stuff it with a subway napkin. Hopefully this makes more of a difference than it did during Game 7, otherwise I will have to stop riding.
I continue on along the #3 Crowsnest Highway and about 3 minutes before reaching Rossland my GPS shuts off and won't turn back on. Noooo.... I am fast approaching a fork in the road and didn't have time to read the signs and go right. Nope. This takes me to the US border which I only realize after seeing this sign:
I'm glad I brought my old iPhone 5 and a Ram mount with an X-Grip as a GPS backup. However since I didn't use the iPhone 5 for the entire first half of the trip, I gave it to my sister and so now I'm using my primary phone as my GPS
I have already had to wipe the inside of my visor clean because the ash is building up inside my helmet. My black gear has a thick coating of brownish/grey ash all over the front facing side. Regardless, the mask seems to be working well and I can breathe clearly. And having the cell phone mounted means I can take selfies and other pictures while I ride!
I get to Creston and this is what it looks like:
I take a moment to read some more news. It seems the smoke will be this bad up here for at least a day, likely two and maybe more depending on how the weather shapes up. I don't trust what I read and know that I have to get home for work by the following Monday and I don't want to suffer the black lung just for a few roads. I can't even believe map guy just said that! I decide to press on and see how far I can go. Pretty soon I see another sign telling me there's a fire ban in effect:
I pull out the phone and figure that today I can make it as far as Lethbridge AB and hopefully the skies will be much clearer there. I call a motel and book a room. When I arrive the thickness of the smoke in the air is not as bad as southern BC, but you can still taste it.
The Crowsnest Highway is a remarkable road.
It stretches all the way from Hope BC to Medicine Hat AB
. For all the stopping today and smoke to deal with, it was a very long day from Kelowna to Lethbridge. By the way - the town and area all around Fernie is simply gorgeous - I can't wait to see it again under clear skies.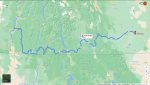 Up next - the smoke will decide for me!
Last edited: