Curry - so nice it burns you twice
Site Supporter
My plan was to attend a V-Strom Rally during the weekend of Oct 9, 10, 11 @ Deals Gap. Before arriving in Deals Gap I wanted to ride to my sisters in Vancouver, then my wife would meet me in Vancouver and we would ride down the California coast and she would fly home from southern Cali or Vegas. I would continue on to Deals Gap and then home.
Because Covid, there's no going to the US for who knows how long, so I decided to head to BC and back. I had booked a ferry ride from Prince Rupert to Bella Coola, but it would turn out that Bella Coola is only allowing BC residents into their community - not residents from other provinces. So it meant I would keep it simple and spend more time visiting the people I wanted to see and maybe a bit less time riding.
So now the ride there is supposed to be something like this: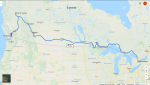 While staying with my sis, if time permits, then I would like to do something like this: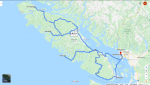 Coming home, the route is supposed to be something like: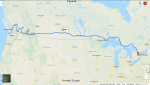 I've got 4 weeks to do this. Never had a 4 week vacation before and the longest bike trip I think I have done is around 2 weeks. No tents this time - just motels so I can maximize my days and keep the packing light. I'm riding a 2010 DL650 and did a bunch of things to it to make it a good bike for this trip & to make sure nothing goes wrong. New suspension, new seat, new bluetooth communicator, new gps, tires, chain/sprockets and of course a fresh oil change. I even upgraded my cell to an iPhone 6 to take better pics for you. I also bought a BC mapbook which is the Destination Highways BC book and it's written specifically for motorcyclists looking for the best paved roads in BC - stuff that maybe locals would know or even stuff that locals don't know. Hopefully on my way home I'll have a few days to ride around the southern interior and check out some hidden gems.
Last edited: