Hey guys, I was passed down this old motorcycle a couple months ago and I've been slowly working on getting it up and running again. It sat for a couple of years with the previous owner. It's been a lot of fun and getting hands on is forcing me to learn a bunch! I've mostly been using the kzrider forum to help me get through the build/restoration. Wanted to find local enthusiasts/riders as well so here I am
How she looked when I picked her up: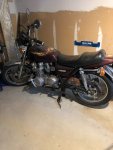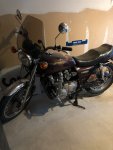 I've already removed that wall of a windscreen and the mirrors, cleaned up the carbs, cleaned tank, new air filters, new fuel filter, new fuel line, new vacuum line, new battery, new
spark plugs
, checked valve clearances, replaced gaskets/screws as needed... I think that's it so far.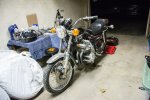 I have an end goal in mind that I'm trying to have completed over the winter. Next season should be fun