Well-known member
Site Supporter
I know - I've been watching them over the last couple of years. It was a truckload sale - Yamaha wanted to clear them out to introduce the new triples which had some growing pains but they were priced very agressively so the price on the 2013 FZ8 was knocked down ...we got the last one as someone had to bail due to financing issues.
Walked into another Yamaha dealer and asked if he would match ...he just walked away with a shocked look on his face.- I think he was priced at $11,400 at the time. ( $8890 US )
the new yamaha fz8 replaces the old and affordable fzs600 workhorse but it keeps the same rugged character as its old sibling. however the new fz8 (...)
www.topspeed.com
This review convinced us
Yamaha's 2013 FZ8 is a truly magical motorcycle; it's perfect for urban settings, canyon carving or highway droning, and gets unbelievable gas mileage.
ultimatemotorcycling.com
We took it across Canada - he put a Shad Comfort seat on it.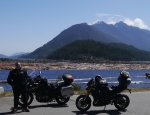 Last edited: