Ironus Butticus
Site Supporter
I know which way this discussion will go, But for those willing to listen to a valid argument on the topic, take a few to read this entire response.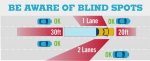 I drive one of these for a living, and have done so for over 25 years now.
Since I know we are all perfect pro riders around here who would
never
knowingly put themselves in a risky situation while on 2 wheels, I'm sure nobody here would ever consider riding in one of those blind spots where guys like me in the drivers seat can easily miss you when you're on a diminutive vehicle the size of a motorcycle.
But let me tell you from experience, that present company aside of course, there are lots of stupid people on our roads, including many on 2 wheels.
They DO ride in the blind spots of vehicles. Not just guys like me with LOTS of blind spots, but cars, pickup trucks, busses, garbage trucks, U-Hauls, etc etc etc. And they have NO idea they're doing something stupid.
Even when people KNOW about blind spots and knowingly try to avoid them, there are going to be situations we are all inevitably as part of sharing the roads with other vehicles where we are going to end up in them anyways whether we like it or not. All we can do at that point is try to minimize the risk and get ourselves out of the situation as soon as physically possible.
Now, to continue....we all have 5 senses. Vision, hearing, smell, touch, and taste.
When a small vehicle disappears into one of those blind spots because they don't know they shouldn't be there, vision becomes useless. We can't smell, touch, or taste that vehicle either. Well, hopefully.
But hey, we might be able to HEAR it.
Draw your own conclusions from that point forward.
I have personally witnessed far too many near misses in my 25+ years plodding up and down the roads across North America for work. Thankfully never a death, but several that came close enough I nearly crapped my pants. Are they all the fault of the other vehicles for not being able to physically avoid something they had no idea was there? Or were they the fault of the smaller vehicle unknowingly or stupidly sitting in a spot where surrounding traffic simply had no idea they were there? Regardless of who's at fault, the rider is likely going to be dead.
And before anyone jumps on me for advocating straight pipes or whatnot, I'm NO fan of that level of obnoxiousness. I went to great lengths with my last bike to undo the stupid straight pipe setup that was on it from the last owner. My new bike may require the same when I pick it up in a few weeks as I wasn't yet able to discern what level of noise the aftermarket exhaust is going to make at speed.
But do I advocate for silence either? Absolutely not. To remove a simple yet very effective aid using one of our 5 senses that can contribute towards potentially saving the life of someone on 2 wheels is not a valid argument made without prejudice. Whatever the fault in the end, be it the fault of their own stupidity, be it the fault of the other vehicle just not looking in their mirrors hard or long enough, or be it the fault of "a series of unfortunate events", in the end, the motorcyclist is still going to end up being the dead or maimed person when it's all said and done.
The very reason there is a horn on motorcycles is to act as an aid to aid the sense of hearing of other vehicles around us when needed. Tastefully audible pipes on a motorcycle do the same, but without the need in a potentially panic situation to reach for and press that button. Again, based on 25+ years on the roads in a big truck watching all sorts of close calls unfold around me (because we can see a lot more than most people can given the height we sit at), it's been my observation that the last thing people really think about when things are going all to hell in a handbasket and their life is in imminent risk...is honking their horn.
Would you rather not just be heard a little and maybe avoid all this to begin with?