Well-known member
Site Supporter
You should at least bring the bike there and ride BC.
Photos here - random. Please let me know you can see them
June 2019 west Coast by motorcycle
Think I have the answer for my pillion
Imola 14-22 Expandable

The Imola seat bag from Ventura is a lightweight luggage solution for your motorcycle. These bags do not need any ironwork, bracketry or racks for mounting, they simply attach to your seat. Great for sports bikes carrying small amounts of luggage, in a convenient and easy to use design that will not detract from the look of your bike. Imola will fit almost any bike but customers who own super sports bikes with extremely small pillion seats should consider the Estoril seat bag instead as the base is smaller and will fit much better.

The design features a soft panel that attaches to the seat and is securely located by straps underneath. The seat bag itself simply clicks to the panel by way of heavy duty, quick release clips. Because the seat bags use only the seat for mounting, there should be no threat to your paint work.

Ventura seat bags and seat pads are made from super tough materials and feature the same levels of quality, workmanship and features that we have come to expect from Ventura.

Super tough Ballistic PVC laminated fabric


Reflective side stripes for enhanced visibility and safety


Rubber moulded carry handle


Quick release buckles for fast fitting and removal


Expandable


Double zipper openings for easy access


Pull tags on zippers for easy operation while wearing gloves


22 litres


230 x 250 x 310 mm (300 x 250 x 310 Expanded)


9 x 10 x 12 inches (9 x 10 x 12 inches Expanded)


Seat-Bra included
The set up I had ( old tank bag ) was useable but clunky and could not adjust front to back very well.
I like the "bra"concept". Even if I need to use an extra bungies for stability when it's full it's still a better system than what I have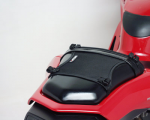 Last edited: