Here's my review of my first motorcycle trip. Thanks to the past posters for giving me the bug!
The Basics:
My buddy and I decided to ride down to do the dragon and then we decided to visit Barber motorsports for a day.
Friday May 20th.
RACED home from work. Grabbed my gear..and waited for my buddy to show. Of course, I had packed everything the night before. Double and triple checked everything. I was set!
My buddy showed up and of course his bike wasnt packed at all. What seems like hours passed as he took his time loading gear and getting ready to go. I was pulling my nails out waiting..helping..prodding...ARGH.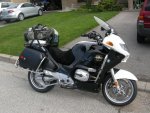 My baby packed and ready to go!
6:19 we departed!
May 24 traffic expected, so we back roaded it from Mississauga to just past Milton. Jumped on the 401 and traffic was light. Kept it between 120 and 130 until our first fill up and dinner break. About 30ish minutes outside of Windsor we stopped for fuel and a quick and dirty Burger King dinner. It took until the next day for my buddy to discover that his dinner didnt agree with him...he mentioned later about how he was peeing from his ***.
We went thru customs at Detroit. Although there wasnt much of a lineup it was still pretty slow getting thru. I noticed customs was checking a lot of cars. My only guess for the increased security was they were still on alert after Bin Laden?
Anyway after getting grilled on where we were going, off we went.
It was now after dark and the temps were dropping, being by the lake sure didnt help either. We pushed on.
At about 1:30am we made it to our first goal. Sidney OH. Pulled off and grabbed a room at the Days Inn in Sidney, just off 75 at 47. Rooms were the cheapest I could find before we left. $49 for two beds. Room wasnt anything special, but after all that riding we were tired and ready to sleep.