Well-known member
Site Supporter
Looking to get into one of these bikes before the end of this season. I've never owned anything other then ss so this will be a change. I'm tired of having to go triple digit speeds to have fun. Also 2 up friendly is a big deal for me.
I rented a t100 Bonneville in Vegas last year and fell in love with the comfort, even with the wife in the back. I was able to ride all day in and around the strip and the open rodes with ease and comfort.
I've been looking at these bikes and pretty much narrowed it down to the xsr and street twin. I know the thruxton is out but not in the budget. Man that thruxton r looks impressive.
I guess not much opinions on these bikes as they're all pretty new so just wanted to start a conversation if anyone else is looking....
Xsr looks amazing and has the power I'm used to. Has a popular tire size.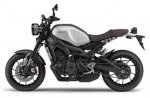 Street twin looks even better Imo. Less power but peppy mid range torque also crazy good gas mileage(I don't really care tho). Low seat height my short ass.
Scrambler looks good but not really into Ducati for some reason.
Sent from my SM-G900W8 using Tapatalk
Last edited: