Well-known member
Site Supporter
Hi Everyone,
<<UPDATE! I HAVE ATTACHED AN EXCEL-BASED CALCULATOR FOR THE MATHEMATICALLY CHALLENGED
>>
Time and time again, GTAM members ask me why they aren't allowed to cancel their State Farm policy (or drop to Fire and Theft only) for the winter without paying a "penalty". Although State Farm charges equal premiums every month, you actually "use up" the annual premium much faster over the Spring/Summer months than you do in the Fall/Winter. You are given the following copy of the State Farm premium-earning schedule with your policy package (note that a motorcycle is considered part of "Other Rec. Vehicles"):
Depending on when your policy took effect and when you decide to cancel, you will fall into one of two categories:
You OWE State Farm for premium that you "used up" but did not yet pay for
You are entitled to a REFUND because you have paid for more premium than you have "used up"
Although I work in the insurance industry, I do not work for State Farm; however, based on State Farm's premium-earning schedule, I have put together the following document to help people understand what they will owe (or be refunded) should they decide to cancel their policy early. The twelve examples I have created below are for the following specific policy effective/renewal dates:
January 1st
February 1st
March 1st
April 1st
May 1st
June 1st
July 1st
August 1st
September 1st
October 1st
November 1st
December 1st
For each example, I show the percentage of the annual policy premium that you owe (or are refunded) at the end of each month of your policy. Bear in mind that State Farm charges you the first and last month's premium up front, so part (or all) or the premium owing will come out of the last month's premium that you have already paid. If you are entitled to a refund, then you will receive the refund percentage indicated below in addition to the last month of premium that you already paid.
Find the example below with the closest policy effective date to your own, and you can get an idea of what will happen should you decide to cancel your policy.
Enjoy!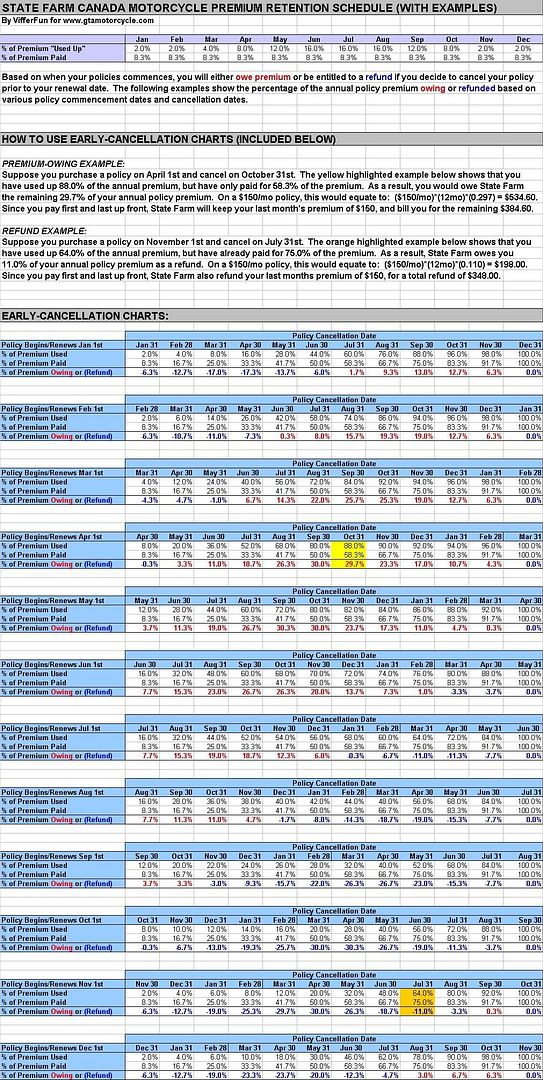 Last edited: