Well-known member
Site Supporter
Just wanted to plug a local motorcycle rental place. I know some of you might be looking for a bike for an M course or rent a bike for a visiting family member or even rent one for yourself when yours is down. Or even when you want to try a different model and you don't have any buddies that own that particular bike.
Off the top.
I am not affiliated with this company nor do I personally know the gentleman that runs this business. My only experience with them is renting a bike from the for fathers day in 2019. My wife surprised me with a bike rental for the day. It was a good experience.
There is no personal gain for me by posting this.
You are free to do your own research on this place and make your own judgement.
This is what I know about them from a short conversation with the owner in 2019.
Their prices are very reasonable ($149 per 1-2 days + HST) and they have a few different bikes to choose from. The prices are the same for most bikes. Some bikes may have a $25/day difference in rental fee.
The bikes DO come with insurance so you do not need to have your own insurance. Great for visiting family members/relatives.
From what I know they are registered in Quebec, on Quebec plates and Quebec insurance. However, the owner assured me that this is all 100% legit and the insurance does work here in Ontario in case of an accident.
I did not get into the details of how this works, but I do not think someone would be trying to run a rental business with multiple bikes under the table/illegitimately.
The owner, was also very nice and polite and accommodating. I think his name was Andre but I could be wrong.
They run the business out of Oakville (Fourth Line and QEW). That is where you pick up and drop if the bikes.
They also have a second location in the Ottawa/Gatineau area.
The current fleet is as follows. They only have one of each so you need to call ahead for availability. It is obvious that they do not have the latest models or the most sought after bikes. But this is how they are able to keep the prices affordable.
2012 Honda NC700X
2010 Honda Shadow Phantom VT75
2010 Moto Guzzi Stelvio 1200
2016 Honda CB500X
2005 Honda ST1300
2007 Honda ST1300
Their current rates as of today's posting.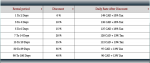 Website and contact info.
MotorcycleRentalToronto
480 South Service Rd W
Oakville ON L6K 2H4
647-963-3944
Hope you find this helpful.