Ironus Butticus
Site Supporter
Anyone interested in doing a Bun Burner 1500 (2414KM in 36 hours) with me potentially in a few weeks, weather permitting?
I'm eyeing up the easter long weekend. Again, 100% weather permitting given the time of year - temps won't stop me unless they are forecasted very low, but rain this time of year, yeah, that'll be a show stopper unless the forecasted temperatures are on the flipside..abnormally warm. 2400KM in 36 hours is a pretty easy schedule though, so I'll be grabbing 5-7 hours (depending on how on-time the trip is going) sleep at a cheap motel somewhere.
Here's the proposed route.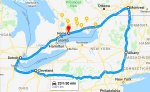 Discuss here if interested.