Where do the motorcycle clothing manufacturers get their hangers from? I'm talking about these heavy duty black plastic hangers that are able to carry over 10lbs of leather jacket and armour without bending or snapping: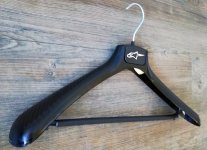 I've tried the suit jacket hangers made out of wood with the molded shoulders but they're just not the same. These are the ones I've tried:
High-Grade Wide Shoulder Wooden Hangers 6 Pack with Non Slip Pants Bar - Smooth Finish Solid Wood Suit Hanger Coat Hanger, Holds Upto 20lbs, 360° Swivel Hook, for Dress, Jacket, Heavy Clothes Hangers : Amazon.ca: Home
All of these hangers have the problem that either the metal that the hook is made of is too flimsy for the weight, or the way the hook is attached to the wood is not strong enough, or the shoulders are too slippery and the jacket doesn't stay on...
I would like the exact same hanger that the motorcycle clothing manufacturers use. Can't find them online anywhere.