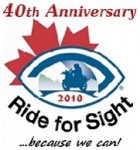 Thank you Riders, Supporters, Volunteers, and Friends
of Ride for Sight.

During 2017 you helped raise over $300,000 for The Foundation Fighting Blindness - Canada and their important vision research.
Because of you, and people like you, necessary vision research is continuing to be funded at Universities and teaching Hospitals across Canada. You can see the details of FFB funded research at ffb.ca.

We hope you had fun at the Fenelon Falls celebration site. We'll be headed there June 15-17, 2018 to celebrate the 40th Anniversary.

If you didn't make it to the celebration last year, we hope you'll make it in 2018. The Volunteer Team is already working on details to celebrate your efforts at the 40th Anniversary of Ride for Sight.

If you would like to join the Volunteer Team, if you would like to become a Sponsor, or if you have any suggestions, please post or message here, and a Volunteer will respond shortly.
We've updated our website and invite you to check out the memories at
rideforsight.com
Last edited: