So the rust on my old RC51 isn't done with me yet. You folks helped massively with that, so I'm returning to the well...
After dealing with a seized swingarm bolt due to corrosion, I have started with the braking system. I was tearing down the rear caliper for a rebuild when I noticed the bleeder was quite rusty. I tried to remove it, and it immediately became clear that it wasn't going anywhere easily. I soaked it in yet more Liquid Wrench, but it made no difference. After getting impatient (my usual downfall), I tried twisting it out slowly while backing off every few turns like a tap. No dice. It fought me the whole way, and once removed, it became clear that some of the threads from the caliper decided they preferred sticking to the bleeder. What's left behind is a mess. It looks like the previous owner (or one of the 8) had cross threaded it at one time, so I don't think tapping it to the original size is feasible.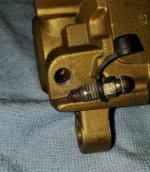 So what are my options?
I'm thinking the following:
- helicoil
- bleeder repair kit
- just buy a new caliper
I'd prefer to avoid the latter, though they'd not super expensive (the shipping on eBay is, though - twice the cost of the caliper in many cases).
The helicoil is the most appealing because it stays closest to stock, but I don't know if the thread will interfere with the seating pin on the end of the bleeder bolt. There's also residual corrosion inside the caliper that would have to get cleaned up to restore the seal.
The bleeder repair kits look good, but it's a tiny little caliper, and I'll have to measure carefully to see if it'll fit. I'm not optimistic, considering the space available.
Does anyone have any experience with this that can save me a headache? Or should I cut my losses and order a replacement...