GWS Rider.
Ride safer everyone.
[h=1]Motorcyclist rushed to hospital following accident in Cannington[/h][h=2]'He must have flew six or seven feet in the air,' said one witness at the scene[/h]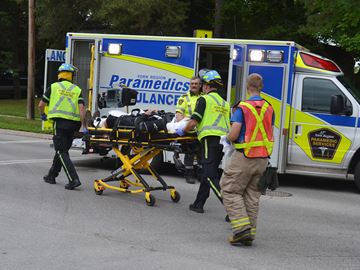 [h=2]Cannington motorcycle accident[/h]




nextplay/pausepre

1/2​




Brock Citizen
By
Scott Howard
BROCK TWP. -- A motorcyclist was taken to hospital with undisclosed injuries following an accident in Cannington Wednesday morning.
While no information has been released by police as of yet, the accident occurred around 9 a.m. at the intersection of Cameron and Albert streets.
According to witnesses at the scene, a pickup truck heading west along Cameron was trying to turn south onto Albert, forcing the oncoming motorcyclist to hit the brakes.
"He went flying over the handlebars," said one witness to the accident.
"He must have flew six or seven feet in the air."
Cannington resident Jennifer Gourlie was travelling immediately behind the truck involved in the accident and rushed to tend to the motorcyclist.
"I took First Aid and CPR years ago…but you don't expect to see a body lying in the street," she said.
"As I soon as I saw it, I knew I had to help. I had to."
Fearing a serious neck injury, Ms Gourlie made sure to keep the the man's head stabilized until an ambulance arrived and paramedics took over.

"He's got a bunch of road rash and a sore neck -- he got lucky," Ms Gourlie said.
Cameron Street was closed in both directions for the police investigation.
Scott Howard is editor of the Brock Citizen. He can be reached via email at showard@mykawartha.com