Mmm.. I know there are classifieds forums here but I don't know where this would fit, which is kind of my problem with this thing.
I have one of these (the touring version):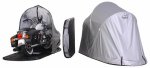 And I don't need it any more, got a double-car garage now. It's a really awesome way to store your bike any season. There's a demo of it
here
.
How do you figure I can sell this thing? Even on Kijiji there's no category for portable motorcycle garages
Or is anyone here interested? Send me a PM.