Hey All,
I'm planning on selling my 2016 Shadow Phantom this year. Seeing if there is are any takers on this forum first before i post on autotrader/kijiji.
Price : $5600
Mileage : 11023 km
Colour: Grey/Black
Condition: very good (Crack on rear left turn signal). Mostly highway driving and i avoided riding in the rain. Just changed the oil and filter (Nov 2018. Bike is parked in heated parking lot
Modifications: Cobra Street Rod Slashdown Exhaust (i still have the stock exhaust if you wish to have it). New black rear view mirrors (still have the stock mirrors)
I am the only owner and i bought it straight from the Honda dealer.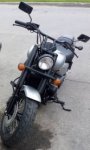 Last edited: