Been wanting to ride track but dont want to trash your street ride? This is the bike for you! Probably the most stable and forgiving 600 you can buy, runs great, just needs a set of track bodywork and you're rolling.
Only good picture i have of it's current condition. Bought this bike new in alberta and put it down at low speeds twice on it's left side (hence the NRC case cover) on a kart track, rode it for a full season after the crash with patched together bodywork and it runs flawlessly. The bike does actually have a title i just cant find my ownership, and it's going to cost 1000 dollars in fines for me to get another copy from alberta. Bike has 25 000km's on it.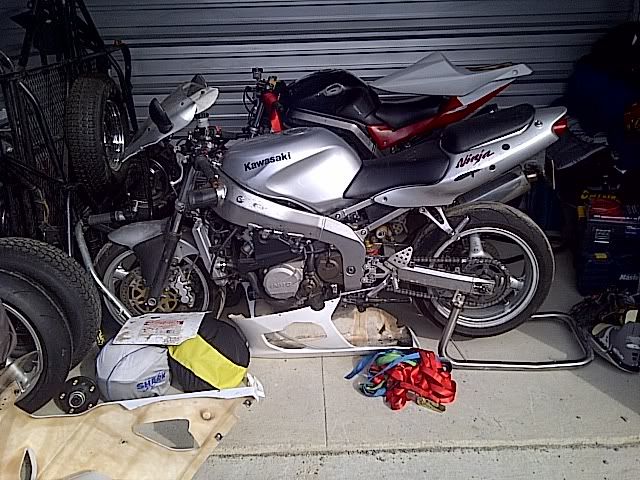 SO **the bad**
-there is rock gravel (larger then marble size they use in one of their crash areas) marks on the left side of the frame and tank in a small area, these marks are 100% cosmetic
-The bolt for the fairing (i guess) on both sides hit the frame and took the paint and a very, very small amount of metal. I've ridden it for a whole season since, the damage isn't about to effect the structural integrity of the frame. This is the biggest thing stopping me from converting it back to street duty.
-could use a chain, but not 100% necessary
**the good**
-valves done at 18k all adjusted to give the longest interval until next shimming
-jet kit installed
-SS galfer lines
- 05-06 zx6RR rear shock
-.95 front springs
-03-04 zx6r full factory system with scratched but not damaged hindle muffler. (removes cats and probably 15 lbs from the bike)
I'll grab a picture of the scratch on the weekend, bike is stored at a friends house on the east side of scarborough.
Last edited: