Old, Slow and Grumpy
Site Supporter
Yes its work related.
Yes the Crysler tank is not the most highly designed tank in the contest.
But it is the ONLY Canadian tank in the contest.
Please vote for the Crysler tank to get it into the top 10.
It was 40th this morning and is up to 26th after a couple of Cornwall and Ottawa news agencies picked up the story.
The whole contest is to reflect community pride.
Tank of the Year : Tnemec Tank of the Year Voting
tankoftheyear.tnemec.com
1 vote per email address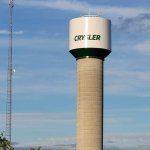 Contest closes Oct 15th at 5 pm
Thanks