It's Snow City's Open House May 6 - All Proceeds in Support of Your Celebration August 11th Weekend in Fenelon Falls!
Ride for Sight Volunteers will be out to answer any of your questions. Stop by and support our 45th Ride for Sight.
Rumour has it that there will be amazing deals on 2022 Kawasaki bikes, Racer David MacKay will be there signing posters and more fun.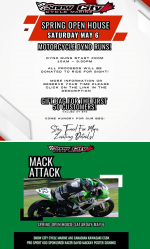 Home | Snow City, 1255 KENNEDY ROAD TORONTO, ON M1P 2L4, 416.752.1560