Well-known member
Site Supporter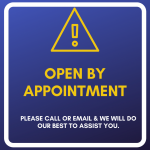 Given the fact that the Ontario government has listed motor vehicle repair as part of their essential businesses, we have opted to re-open for business on an appointment-only basis. Of course, many of you already consider your motorcycle as one of life's essential elements!
Please note that priority service will be given to pick up appointments for winter storage vehicles and vehicles requiring repair or service.
New policies will take effect and must be adhered to so long as we remain under a provincial state of emergency.
New store policies during state of emergency:
Appointments must be requested via phone or email - only customers with appointments will be permitted to enter the premises.
Whenever possible, vehicles are to be picked up or dropped off outside to limit the amount of people entering the building.
All bikes scheduled for service will be washed by our staff prior to entering the building and will be subject to a $10 wash fee.
All customers permitted indoors must use provided hand sanitizer before interacting with staff or handling merchandise / paperwork / payment machines.
Whenever possible, customers will be asked to review invoices via email and issue payment via interac email transfer to reduce in person transactions.
Customers will not be permitted to try on gear and apparel at this time. We apologize for the inconvenience, but it is not safe to do so. We are not accepting any returns.
New & used vehicle sales will be permitted by appointment. Call us for details!