Well-known member
Site Supporter
QUESTION 1: "Which Insurance Company will give me the best rate???"
QUESTION 2: "How much to insure a . . . ???"
Hey Everyone!
It's Spring time, and with the change in season comes thousands of new (or not-so-new) riders asking the familiar questions posted above.
Myself and other members have patiently responded to the first of these inquiries, but quite frankly, it's a very boring topic that is repeated over and over and over again. If you are thinking of asking the second question, DON'T BOTHER -- other than the fact that it's annoying, you won't get any meaningful information on the forum. Instead, continue reading this post and contact the insurance companies I suggest, and they will answer that question for you very accurately.
Before asking about the best Insurance Company, have a look at the decision trees that I have put together below. It's pretty simple -- follow the arrows and the tree will magically suggest some companies that might offer you the best rate. Be sure that you at least get a quote with each of the companies I suggest. You will notice that I suggest different companies depending on your profile, and this is because different companies desire different risks, and hence offer very different rates.
I have created two decision trees . . . one for the Sport/Supersport riders, and one for the Classic/Cruiser/Non-Sport riders. Please keep in mind that this tree gives suggestions only, and it is also possible that your specific risk profile may not even qualify for some of the companies suggested.
If the tree only suggests the Facility Association for you, then you might as well forget about it -- insurance will likely be in excess of $4000 a season. If FA is the only suggestion given, then my guess is that you're a beginner and haven't done your research on a suitable bike yet. If this is you, then you must read this excellent write-up about beginner bikes:
http://www.bcsportbikes.com/forum/showthread.php?t=45571
If you would like to know which bikes are blacklisted by Jevco (i.e. have a 425% surcharge), Rob MacLennan posts the list to his website here whenever it becomes available. FYI, most companies have blacklists that are very similar (if not identical) to Jevco's:
http://www.ontariomotorcycleinsurance.com/
My decision trees suggest insurance companies, but it is up to you to find a Broker, Agent, or Phone Number/Website where you can get a quote with that company. There is a sticky thread with some suggestions if you need them. If you don't understand the differences between an Insurance Company, Brokerage, Agency, and Direct Writer then read below:
INSURANCE COMPANY:
This is the large corporation actually providing you with the insurance coverage. The insurance company will reimburse you in the event of a claim. With the exception of Direct Writers, you do not communicate directly with the Insurance Company unless you are making a claim.
BROKER/BROKERAGE:
This is essentially the "middle man" between the Insurance Company and you, the policyholder. A Broker can sell policies for multiple insurance companies, and it is their job to suggest coverage, explain coverage details, and match you with the best insurance company for your situation. A Broker is independent of the Insurance Companies they represent. It helps to quote with multiple brokers, since there are over 100 insurance companies in Canada, but each broker only deals with 3 to 10. A quote with the same Insurance Company by different Brokers will be identical if both Brokers are quoting the exact same coverages.
AGENT/AGENCY:
Like a broker, this is the "middle man" between the Insurance Company and you, the policyholder. An agent is an employee of the company they represent, and they can ONLY quote with the company they work for. For companies that sell through the agency distribution model, you can only get a quote through one of their agents. The Agent's job is to suggest coverage and explain coverage details. A quote with the same Insurance Company by different agents will be identical if both Agents are quoting the exact same coverages.
DIRECT WRITER:
This is an insurance company that does not use Brokers or Agents. Instead of brick-and-mortar Brokers and Agents, you contact the Insurer directly for advice and quote through one of their call centres or their website.
Enjoy the charts, and hopefully this cuts down on the meaningless posting in the Insurance forum here at GTAMotorcycle.com!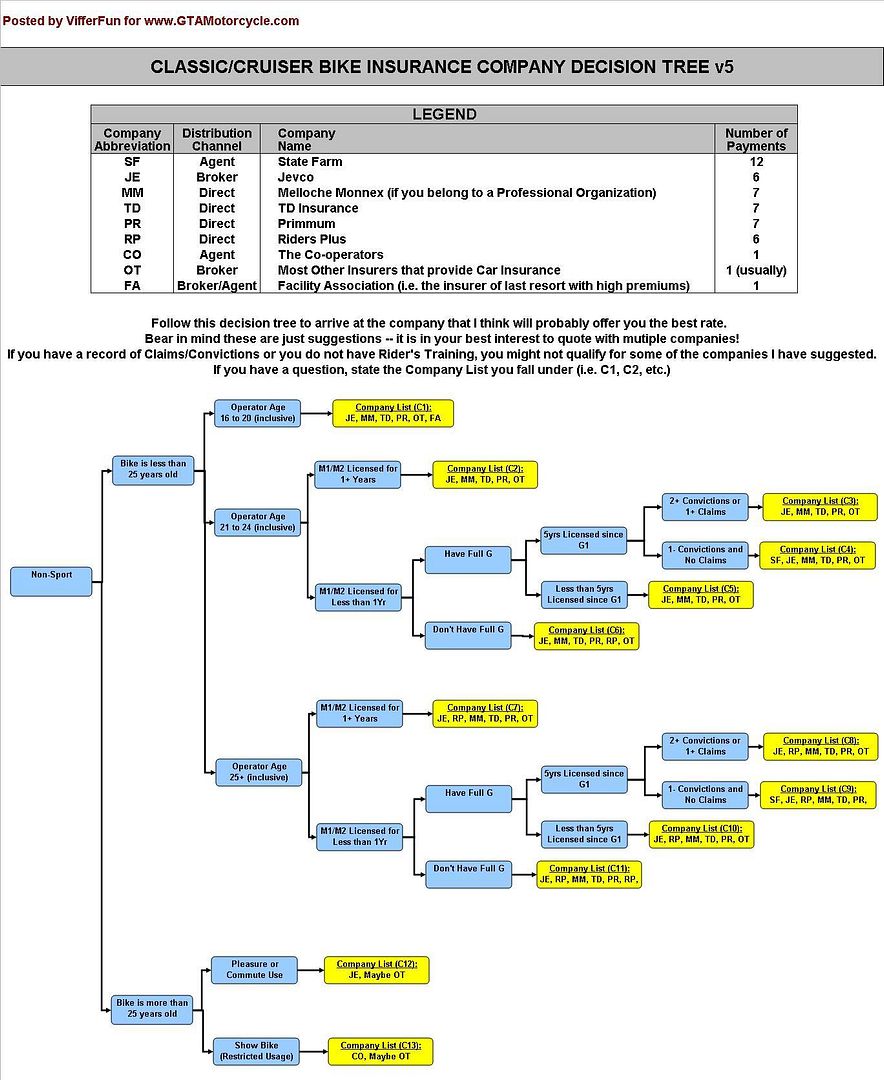 Last edited: