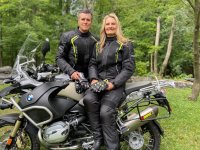 Meet the Gryphons this Saturday! Mrs. and Mr. Gryphon (they're actually called the Cuzners) will be setting up shop right in front of Powersports TO all day this Saturday July 23, from 9:30 to 5. Come meet Jenny and Gary, the masterminds behind the Gryphon Moto brand and try out their excellent and excellently-priced gear! We'll be serving refreshments and giving away a jacket! That's right, one of these bad boy is up for grabs (we'll swap for another Gryphon jacket of equal or lesser value if we don't have your size on hand):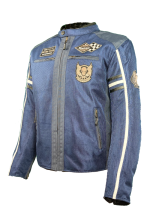 Giveaway prize:
Gryphon Moto's Café Mesh Jacket
($299.95 retail value)
All you need to do to enter the giveaway is give us your name, phone number and email address - the giveaway winner will be contacted by email. You can then unsubscribe from our mailing list and never hear from us again if you so choose. (We'll be sad, but we'll manage.)
See you all on Saturday from 9:30 to 5!